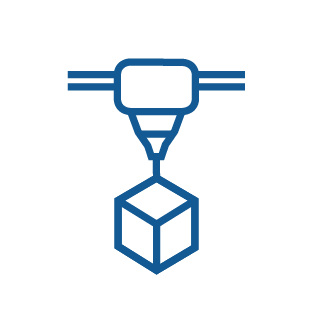 Additive Manufacturing / 3D Printing (AM3DP) is a fast-growing set of technologies at the crossroads of traditional manufacturing and Information Technology (IT).
The novel technologies which make up this emerging sector open the door to new ways to manufacture products, offer fast-turn manufacturing techniques to help on-shore production and mitigate supply-chain challenges and provide the ability to produce complex products which simply could not be manufactured before.
Additive Manufacturing & 3D Printing

AM3DP End-Market Report

AM3DP Materials Utilsation Report
Services
---
CONTEXT AM3DP Printer Shipment and Forecast Report
Access AM3DP shipment data and forecasts
Identify what is being shipped, where and why. The industry benchmark for global, timely market tracking since 2012, the CONTEXT AM3DP Printer Report gives quarterly tracking and five-year forecasts of global 3D printer shipments tracking ship-out data from vendor company headquarters.
Data is broken down by geographic region, vendor and core technology to give a complete view of the entire AM3DP market. The report offers:
Quarterly tracking
Five-year-out forecasting
Global coverage
Comprehensive view of all core print technologies/materials
Quarterly tracking by unit shipments and system revenues with a five-year history by quarter
Five-year forecasts by quarter, by region, by all major price-class and printer system attributes
Aggregation of product shipments by price-class including

Industrial ($100K+)
Midrange ($20K - $100K)
Professional ($2.5K - $20K)
Personal (< $2.5K)
Kit&Hobby (DIY, self-assembly requirement)

Global coverage by eight major regions (North America, Western Europe, Eastern Europe, China, Asia Pacific, Japan, Middle East and Africa and Latin America)
Comprehensive view of all core print technologies by process, by ASTM process and by material
Additional ability to parse shipments by Brand, Model, System Price and Region shipped
 
---
CONTEXT AM3DP End-Market Report
Assess shipments by end market and principal use
The 3D printing market spans a wide range of technologies, materials and applications. This makes it important to understand which technologies best serve which sectors and what is driving demand.
As an add-on to the AM3DP Printer Shipment and Forecast Report, CONTEXT's quarterly AM3DP End-Market Report enables you to further drill down quarterly printer system shipments by:
Quarterly utilisation assessment
Five-year historical assessment
Five-year-out forecasts
Global coverage
Units, revenue and ASP
Segmented by:
End market - Automotive, Medical & Healthcare, Dental, Aerospace & Aviation, Jewellery, Education, R&D, Art & Architecture, Energy, Oil & Gas, Consumer Products and Movie Props
Principal use - Prototyping, Jigs and Fixtures, Mass Customisation, End-Part Production, Mass Production, Movie and Props, Repair, R&D, Art & Architecture, Casting & Molding, Modelling and Covid Related
The report includes:
Global and regional shipments mapped by end market and principal use
Five years of historical data and a quarterly forecast for the next five years
A searchable database of over 1,300 installations including customer name and type, process, use and region.
---
CONTEXT AM3DP Materials Utilisation Report
Evaluate materials utilisation in a host of different ways
CONTEXT uses an industry-first model to create a validated and detailed quarterly report showing how AM3DP materials are used across end markets globally.
The model balances the effects of a multitude of contributory factors (build volume, build speed, principal use, end market, material density, material feedstock and the like) to produce the most accurate assessments possible.
The report offers five-year-out forecasts alongside quarterly assessments of the quantity of material shipped, as well as revenue and pricing, covering the past five years. The data is broken down by:
Print technology
Material category
Material feedstock
Sub-material
End market
Principal use
3d_printing_latest_blog_box