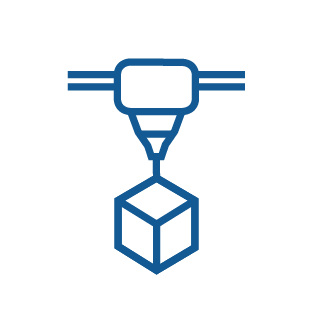 3D printing is a fast-growing technology impacting the IT and manufacturing sectors alike, offering innovative alternatives to traditional manufacturing processes as well as new opportunities.
Whether exploring the 30-year-old industrial/professional additive manufacturing side of the business, or the nascent personal/desktop market, the need to analyse opportunities presented by the dynamic and fast-growing 3D-printing industry is ever more pressing.
Industrial/Professional

Desktop/Personal

Materials/Consumables
Services
---
CONTEXT AM3DP Printer Shipment and Forecast Report
Additive manufacturing & 3D printing tracking and forecasts
Identify what is being shipped, where and why. CONTEXT's global AM3DP reports offer complete visibility of the 3D printing and additive manufacturing market, tracking and forecasting all machines shipped worldwide. Based on actual quarterly ship-out data from vendor company headquarters, quarterly reports are broken down by geographic region, vendor and core technology.
Quarterly tracking
Five-year-out forecasting
Global coverage
Comprehensive view of all core print technologies/materials
Segmented CONTEXT AM3DP reports are also available
AM3DP Report – Industrial/Professional
AM3DP Report – Personal/Desktop
---
CONTEXT AM3DP Materials Utilisation Report
Evaluate materials utilisation by end market and principal use
CONTEXT's granular printer-shipments data underpins an industry-first model of additive-manufacturing material utilisation. The model balances the effects of a multitude of contributory factors – build volume, build speed, principal use, end-market, material density, material feedstock and the like – to produce an ongoing, industry-validated characterisation of historical and forecasted industrial materials utilisation segmented by key attributes that is the most accurate possible.
Quarterly utilisation assessment
Five-year historical assessment
Five-year-out forecasts
Global coverage
Quantity (kg), revenue and ASP
Segmented by:

Print technology
Material category
Material feedstock
Sub-material
End market
Principal-Use
---
CONTEXT AM3DP End-Market Report
Assess shipments by end market and principal use
Delivered yearly, the AM3DP End-Market Report draws on CONTEXT's core AM3DP printer research to analyse the prior year's industrial/professional printer shipments by end market and principal use.
Quarterly report
Global coverage by region
Industrial/professional printer shipments
Segmented by:
Also included: a database of publicly disclosed 'wins' and installations, searchable by process, customer name, customer type, usage, and region.
---
CONTEXT AM3DP Reseller Directory
The CONTEXT AM3DP reseller directory offers a global list of industrial/professional and personal/desktop resellers, VARs, retailers, distributors and other agents involved in go-to-market indirect sales activities for 3D printer hardware manufacturers.
Quantified by
Region
Reseller's principal line of business
Products carried
Known certification